Mt Tamborine Accommodation for Couples and Families
Our Mt Tamborine accommodation is set on four acres of botanical gardens, complete with flowing stream, a small waterfall and cliff views as far as the coast. Featuring couples only chalet stye Villas (bed and breakfast service), the Edge House family accommodation (self-catering), an award-winning Day Spa, private Gold Class Cinema and a spectacular tree house common room in the rainforest.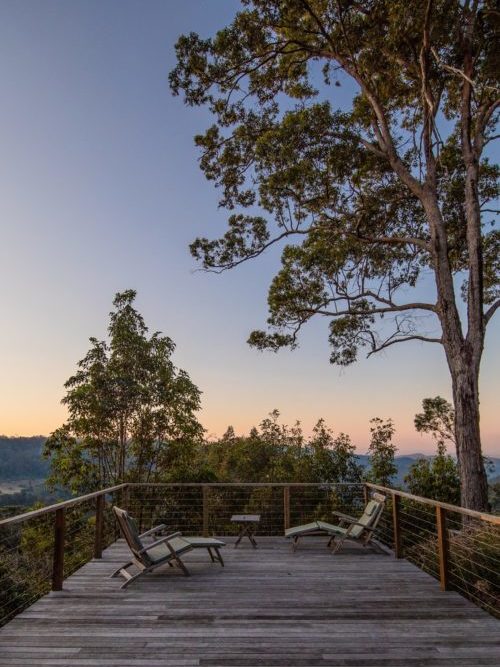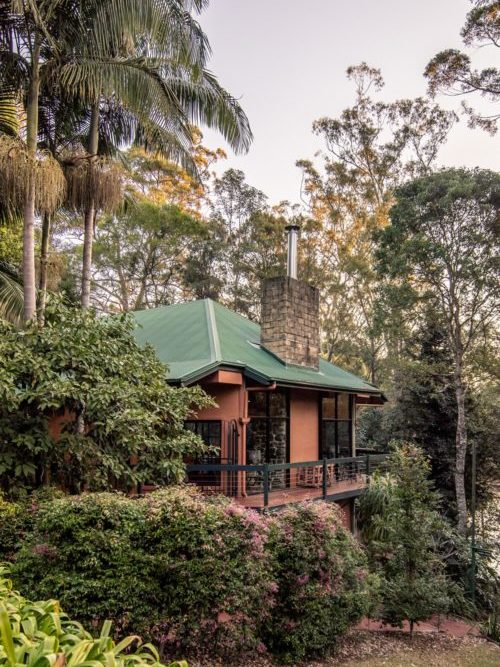 We invite you to explore our 4 acre property. Go for a stroll down the lane way, past our avocado and palm trees. Stop and enjoy the sound of rippling water beneath our gazebo overlooking the Guanaba Stream…
Discover the cascading water from Guanaba Creek and the natural pool, which was used by locals in the 1930's. Go to Lovers View at the rear of the property, it has beautiful views of the escarpment through the rainforests and valleys, and distant views to the coast and beyond. This beautiful part of our property has become a popular spot for marriage proposals.
Go for a short nature walk into our rainforest at Stefan's Way, near the front of the property. Indulge in any of our fabulous massages in our on-site Day Spa. Treat yourself to our Gold Class Cinema, available for your exclusive use
Explore the mountain and discover the wineries, brewery, distillery, golf club, Tamborine Rainforest Skywalk and the Glow Worm Caves. Enjoy home-grown avocados, kiwifruits and macadamia nuts, award-winning cheese and delicious fudge.
Get 10% Off Your next stay
Because we love having repeat guests, we would like to welcome you back with a discount on your accommodation as our appreciation for choosing to stay with us again and booking direct.
Choose between our romantic couples Villas or the Edge House family accommodation. Packages and long stay rates available.
The whole experience of the Escarpment was pure bliss. It really is a retreat away from the everyday busyness. Everything was taken care of for us. I have never experienced such a beautiful massage & facial before. Hot towels, gentle music, magic healing hands. The cleaning fairies came & made everything lovely again which is such a treat for a lady who is usually the one who does this ( it's the little things that make a break all the more wonderful). Our room, that huge bed & deep bath, just a happy place. Having a simple & delicious breakfast ready for us is also such a treat. The grounds are so quiet & beautifully manicured. The quiet.. a deep breathe out..x Totally loved every minute with you.
Robin L
Like to escape the hustle and bustle of city life?